Fishery Industry Technology and Equipment
1.Eggs hatching machine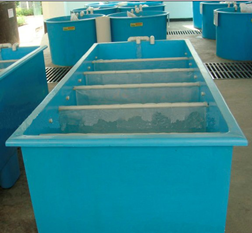 Model£ºGBL-HATER
specification£º200x80x80 Square fiberglass tank hatch£¬Suitable for adhesive eggs hatch.
2. Combined modular circulating water culture system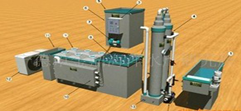 Combined modular circulating water culture system uses integrated modular concept design, Completely solve the traditional
recirculating aquaculture system is a single device system design complexity caused by the high cost, occupies a large space,
pipe connections complex and difficult to maintain, high operating costs, poor treatment effect many shortcomings.
Modular circulating water components:
1. With a mechanical filter
2. Self-priming circulation pump
3. Circulating water central electronic controller
4. Protein foam separator
5. Excluding the proceeds CO2 decomposition filter
6. Trickling biofilter
7. Heat blower
8. Stripping efficient biological filter box stereo exchange
9. Segmented fluidized biofilter
10. High-intensity UV disinfection
11. Vacuum bag filter
12. Efficient dual effect of hot and cold air to the control system
13. Titanium tube cold, heat exchangers
Application of the circulatory system
Modular circulating water system treated water at 5-15 tons / hour
3. High-intensity ultraviolet disinfection system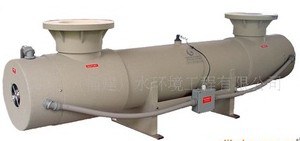 Treated water£º5 tons --- 300 t / h
Power Consumption£º80W-----3060W
Design UV intensity: Greater 32000uw/cm2; life: more than 12000H
Usage: industrial aquaculture, abalone aquaculture, aquarium, shellfish purification, water plants, food processing and other enterprises.
4. Impeller aerator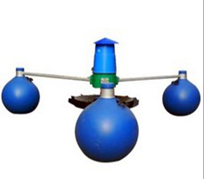 By immersion in water for horizontal rotation of the impeller to increase water dissolved oxygen machinery.
Use pond aerator
1 sunny noon to open 1-2 hours, you can storm out of the water, gas, breaking the water stratification.

2 Promptly at night when the fish floating head open aerator, open until dawn so far.

3 Rainy day daytime Floating aerator is not open at night to open early aerator.

4 After the half-hour opening splash drug aerator for about an hour at night to open early aerator.

5. Paddlewheel aerator

Immersed in water to make a vertical blade rotation, increase dissolved oxygen in water machinery.
Technical parameters£º
1¡¢Weight (kg): 75;

2¡¢Dimensions£¨mm£©£º1600X1980X880 £»

3¡¢Auxiliary power (model, manufacturer, 12 hours power): 1.5kw motor£»

4¡¢Ancillary equipment: supporting one motor; reducer 1; waterproof cover a set; impeller 4; pontoons 3;

5¡¢Matching power: 1.5kw;

6¡¢Rated voltage 380V;

7¡¢Impeller diameter mm: 640